FITNESS AND ALL THINGS 'LIFE' BLOG AWARD NOMINEE(S)
THE LIEBSTER AWARD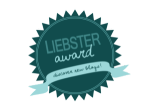 So… I have some good news to share!
I was fortunate enough to be nominated for a blog award!
It's called the "Liebster Award", which I was nominated for by Laura from the blog, FuelingaLife
'Liebster' means "dearest" in German. This award is a way for bloggers to demonstrate each others' appreciation for what we do".
The Rules:
1. Thank the person who nominated you and link back up to his/her blog. Answer the 10 questions which are given to you by the nominator.
2. Nominate 10 other bloggers for the award who you LOVE!
3. Create 10 questions for your nominees to answer.
4. Let the nominees know that they have been nominated by going to their blog and notifying them.
Pretty cool, no?
So here I go with the questions that Laura asked!
1. Why did you start blogging?
I started blogging because I was doing fitness modeling and hated the way I felt like, well, a piece of cattle…. Just an unnamed girl in all my favorite magazines and publications – I felt I could literally write the information for the topics and articles they were featuring. I had a history as a competitive distance runner and a massive injury that forced me to learn NEW ways to get your life and body back and I wanted to share it – someone suggested blogging, and that was the beginning ☺
2. What has surprised you most about being a blogger?
It takes a lot of hard work to keep consistent, engaging content and to gain traction with a following. Something else that surprised me was how you truly feel a connection and warmth with the virtual community you make.
3. If you were going to blog about anything other than what you actually blog about, what would it be and why?
Well – my favorite things in the world are Food, Fashion, and Fitness and that's what I blog about! But my secret undercover passions only my close friends know include interior design and travel, (well that's probably not so secret),,,
4. List 2-3 blogs that inspire you the most, and why.
HungryGirl.com inspires me to try new creative treats and recipes that are STILL waistline friendly and easy ☺
http://fitbottomedgirls.com – these ladies are like having a good cup of coffee with a friend and so fun!
http://www.giadadelaurentiis.com – I completely love Giadda, her recipes, travels and lifestyle I resonate with –and I always feel great reading it!
5. What are your fav songs on your workout playlist right now?
How crazy is it that I'm not listening to ANY music right now. I'd say my playlist is plugging in random words on Pandora. For example – right now you'll see everything 'French Café' to '90's Dance Classics' on my Pandora 'recents'
…
6. Have you made any real life friendships through blogging?
YES! I actually met my new assistant in an airport – she ran up to me and asked for a picture, and I followed up with her. I was looking for a new assistant and figured anyone that passionate, who already knew my brand and philosophy would be an exceptional asset. She has become more than a team member but also a great friend ☺
7. If you could blog full time, would you?
Blogging I Love, but I think if I did it full time I'd miss the in-person interaction – there is something that can't replace in person contact ☺
8. Do you have a guilty pleasure food (that you feel zero guilt eating of course )?
Umm ice cream (Gelati, soft serve, you name it), Potato Chips, Milk Chocolate, Cookies, Cake ….oh gosh I love it all!
9. What is your favorite way to workout? Least favorite?
I love running obviously, as a former competitive runner, but since I am not able to log the miles after my injury I LOVE short, intense, results-oriented 'bang for your buck' workouts. Hence – my career of designing Workout Videos and Programs – check them out and subscribe to my Youtube Channel:AmandaRussell.tv– I post new workouts every Thursday – and all fitness plans on my site: wwwFitStrongandSexy.com
10. What about your blog are you most proud of?
I'm most proud that it is truly my thoughts, my experience and any knowledge or insight I can share with the world. It is authentic ME, and my way of interacting with a larger world ☺
And now my Nominations to Pass Along this Award are (drum roll please):