The PERFECT Simple Slimming Meal or Snack!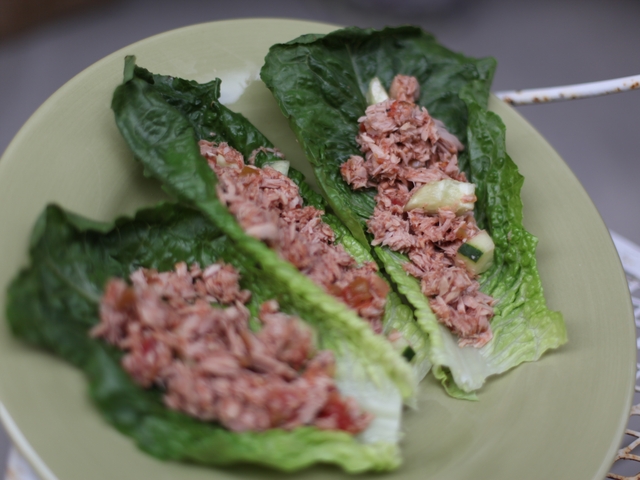 by Amanda Russell
There are SO many different diets, trends, allergies out there, that it's hard to find a good meal or snack that satisfies all people AND is low calorie, filling AND TASTY! I, for one, have quite a few restrictions when it comes to food, after being VERY sick for several months I was finally diagnosed with a dairy and grain allergy! I couldn't believe that all that pain, fear and doctors visits was attributed to a food allergy! My point is that, I have had to find new ways to eat, and still get all the protein I need. Not easy at first, but I have become a student of all things food. Along with this, I know that the bottom-line to getting or staying lean is a high protein diet without packing in excess calories! I believe you can do this without sacrificing taste (stay tuned for my recipe book in the making).

For now I wanted to share one of my favorite snack/lunch meals. It is SUPER low cal so you can have this as a snack, but it is also high enough in protein that it can work well as a light lunch. I recommend this to all my clients, as it is pure clean eating, No Dairy, No Wheat, low calorie, you can't go wrong, whether it's toning and muscle defining you're after, or weight loss, this is a GREAT 'go to!

The Simple TUNA LETTUCE Wrap! Ingredients:
Servings: 2
1 teaspoon capers (optional)
5-10 chopped cashews or almonds
¾ cup chopped celery
6 ounces chunk light tuna packed in water
8 kalamata olives (optional)
½ cup chopped onion
1-2 tablespoon mild salsa
4 large lettuce leaves
1 teaspoon pepper

Directions:

Prep Time: 5-10 mins
Total Time: 5-10 mins

Mix tuna, salsa, cashews, capers, onion, and celery in a small bowl. Sprinkle with pepper if desired. Wash and pat dry lettuce and leave whole. Place tuna mixture in the lettuce down the center of the stalk.
Wrap and enjoy!
For more tricks, tips, recipes and workouts SUBSCRIBE to Amanda Russell TV
Love,
Amanda
« Back to Meal Ideas