Spinach + Tomato Rice Bowl Recipe: A 5-Minute Healthy Dinner Idea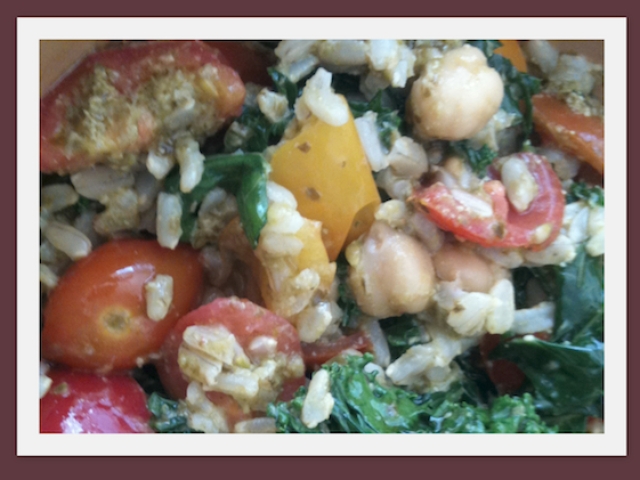 Healthy, Quick Vegan Dinner Recipe
By Alexis Wolfer
Creating quick, easy meals can be difficult if you're trying to stay healthy. By the time you get home from work – if you're anything like us anyway – you're so starving you're more apt to tear into a bag of chips than you are to think about cooking up so-called quick and easy recipes that often take 20 minutes or more. And while we appreciate that 20 minutes is a pretty quick turnaround time for a homemade meal, on those days that 20 minutes is far too long to wait for a healthy dinner recipe to cook, try this healthy spinach and tomato rice bowl recipe. It's so quick you can make it under 5 minutes!
Spinach + Tomato Rice Bowl Recipe
Frozen, pre-cooked brown rice, available in the grocery freezer
1 pint cherry or grape tomatoes
1 bag pre-washed spinach
1 can no salt added chickpeas or garbanzo beans
Olive oil
Salt and pepper, to taste
Pesto, optional

Cook 2 servings of brown rice in a large microwave-safe bowl for half of the time indicated on the package. Wash and slice tomatoes and rinse chickpeas while the rice is heating. Add tomatoes, chickpeas and 2 handfuls of spinach to bowl and stir before returning to microwave for remainder of time. Remove and drizzle with olive oil, salt and pesto, to taste.
Alexis Wolfer is the chief editor at The Beauty Bean, an online women's magazine designed to help you lead a healthier and more beautiful life.
« Back to Meal Ideas