Easy, Light, and Delicious Tomato and Shellfish Stew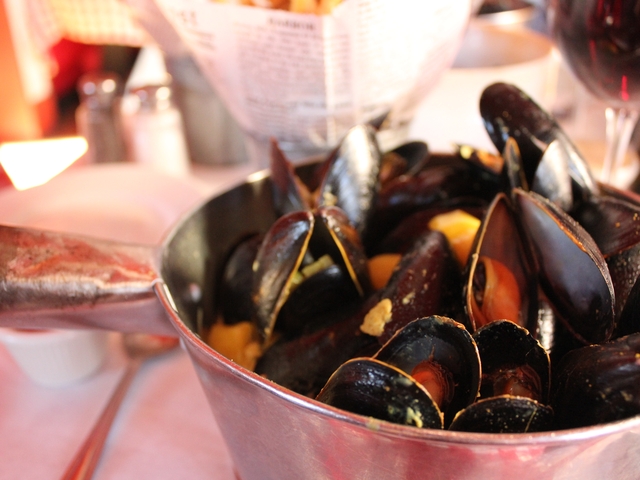 by Amanda Russell
I have to admit, not only do I LOVE both seafood and stews, but I also love NOT having to watch my portion size because of an overly rich and calorie-dense meal. So, if you're like me, and enjoy the comfort of stew, the decadence of seafood and the ability to have a huge portion without the guilt, I think this recipe is a must!
And not to worry, it's super easy, requires only, 10 minutes prep time, one big pot and the following ingredients:
• 2 tbsn olive oil
• 2 onions, finely chopped
• 1 celery stalk, finely chopped
• 2 cloves of garlic, chopped
• 1 14.5oz(411g) can chopped tomoatoes
• 1 cup dry white wine
• 1 cup bottled clam juice (or fish stock)
• 8oz (230g) large shrimp, peeled and deveined
• 8oz (230g) sea scallops
• 1lb Mussels
• 3 tbsn fresh lemon juice
• 1 teaspoon capers
• dahs of crushed hot red pepper
• salt and freshly ground pepper
• Makes approximately 4 servings
Feel free to add or swap out any ingredients. Find a twist that works?? Let me know by posting on my FACEBOOK page: facebook.com/arFit
WHAT TO DO
Prep:10 minTotal:45 min
1.Heat the oil over medium heat. Add the onions, celery, garlic, anchovies (optional), and hot pepper. Cook, stirring often, until softened. Stir in the tomatoes, wine, and clam juice, bring to a boil, then simmer for 20 minutes.
2.Add the mussels (they will open in 2-3min), shrimp, scallops, lemon juice, and capers. Cook about 5 minutes, or until the seafood is opaque. Season with salt and pepper.
More recipes and tips? Have comments? SUBSRIBE to Amanda Russell TV and let me know what you think!
Love,
Amanda
« Back to Meal Ideas