Cheesy Spinach and Tomato Quiche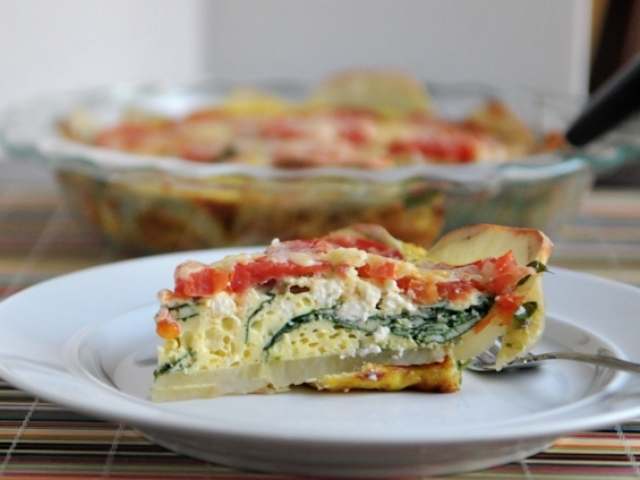 I absolutely LOVE quiche, my mom used to make an Italian style of quiche growing up (yes my mother is 100% Italian and so I grew up on very good cooking). However, these dishes weren't always the best for those of us watching our waistlines! And, when the numbers on the scale started creeping up a couple years ago I decided that I should back off the heavy cream and butter laden quiche dish. But, life is too short to forgo all the yummy stuff, so when I found Heather (awesome Texan food blogger), I couldn't help but be overjoyed with her simple and healthy quiche recipe. I highly encourage you to try it (and if you have a dairy allergy like me, just forgo the cheese, I substitute with flat belly fav: avocado)!
CHEESY SPINACH AND TOMATO QUICHE (from HeathersDish.com)

• 1 whole Russet potato, peeled and sliced into very thin rounds (if your potatoes are small you may need two)
• 8 whole eggs
• 1/4 cup milk
• 1 tsp Italian seasoning
• 1 tsp salt
• 1/2 tsp pepper
• 3 Roma tomatoes, washed and cut into thin rounds
• 3 cups tightly packed fresh baby spinach
• 1/2 cup cubed cheese – the key is to choose a salty cheese. I used White Vermont Cheddar, but feta, asiago, extra parmesan, or your favorite would be good
• 1/4 cup shredded parmesan cheese

Preheat your oven to 375. Spray a 9-inch pie plate with nonstick spray. Layer the potato rounds** on the bottom and sides of the pan – note that you probably won't fill in every crack with potato and that's OK. Bake the potatoes in the oven for about 10 minutes until they start to look a little translucent; set aside while you finish the rest of the prep. In a large bowl whisk together the eggs and milk until smooth. Add in the seasonings and whisk until well-combined. When the potatoes are done par-baking layer the spinach on top of the potatoes and the cheese on top of the spinach. Gently pour the egg mixture over the top, being sure to redistribute the cheese as needed to make it all even. Layer the tomatoes on top of the egg mixture. Bake at 375 for 30-40 minutes until the middle is no longer jiggly. Sprinkle with the parmesan cheese and broil just until the cheese on top is brown and bubbly. Remove from oven and let sit for 5 minutes before serving. Devour!
**If you would like you can certainly use shredded potatoes pressed into the pie dish rather than sliced potatoes. It's still delicious and, since shredded potatoes are easy to find ready-made in stores, it can cut down on the prep time as well!**

Heather is the writer behind the food and lifestyle blog Heather's Dish and the coordinator of the beauty blog Faces of Beauty. She avidly writes about her love of food and life and encourages women to see their true beauty. You can find more at Heather's personal blogs,www.heathersdish.com and www.facesofbeauty.org or send her a tweet at @heathersdish.
« Back to Meal Ideas