Plaza BridalBootcamp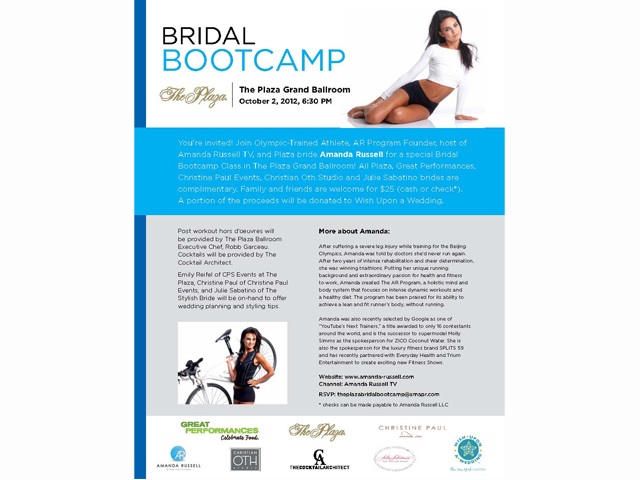 This past summer I hosted the First EVER Bridal Bootcamp in the Plaza Hotel Grand Ballroom, and let me tell you, it was an epic success!
Not only did brides, alongside their bridesmaids, mothers, sisters, and friends, sweat out a high energy, calorie torching 30 min workout to rocking good music in the most dramatic room I've ever stepped inside (yes that would be the grand ballroom), but everyone had a fantastic time mingling afterward and enjoying exquisite cocktails from celebrity mixologists, tasty treats from the head chef of The Plaza and goody bags and consultations from industry experts in beauty, style, hair, wedding planning and more!
It was so so GREAT we just had to do it again! So if you missed it last time, now's your chance - Round 2 of Plaza Bridal Bootcamp in NYC!
Where: The Plaza Hotel - Grand Ballroom
When: Tuesday, Octber 2nd
Time: Workout: 6:30-7pm , cocktails and social to follow!
Cost: $25.00 with portion of proceeds going to Wish Upon a Wedding
Who: You don't have to be a bride (of course if you are, there's no excuse notto come and bring your whole party). Anyone who wants a good workout, a great group of people and has a passion for anything food, fitness, fashion and philanthropy!
RSVP: [email protected]
Note: Post workout Hors D'Ouvres will be provided by The Plaza Executive Chef, Robb Garceau. Cocktails will be provided by The Cocktail Architect
<< Back to Workouts